Grab The Ultimate FUN Guitar Practice Guide To
Learn How To Instantly Transform Your Boring Practice
Sessions Into The Funniest Practice Sessions Ever
So You Can Have More Fun Playing The Guitar
Do you want to feel excited every time you pick up your guitar to practice? Of course you do! Everybody wants this. But here is the sad truth, almost every single player practices using incorrect and effective techniques. And there is nothing fun about practicing something day in and day out with little to zero results. This isn't hard either!
In this free eBook about how to make your guitar practice more fun you will discover:
The most common incorrect practicing techniques that you are probably doing

How to organize your practice so you progress faster and break down walls like the hulk

How to fit practice into the busiest of schedules

How to track your progress so you can see yourself getting better every single time you pick up the guitar

The #1 thing you can do to make your practicing more fun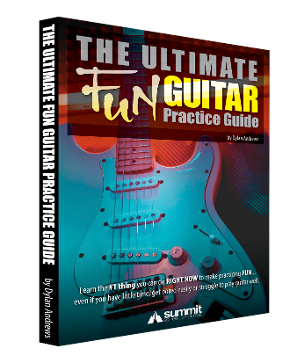 To learn (for free) the #1 way to make our practice more fun and effective, enter your name and email, and click the 'Give Me Access Now' button. All information is kept 100% private and confidential.