An Open Letter To Anyone In Gwinnett County Who Has A Dusty Guitar In Their Closet And Wants To Finally...


CROSS "LEARN GUITAR" OFF THE BUCKET LIST!

Dear friend,
If you secretly regret not learning guitar when you were much, much younger, here is what others in Gwinnett County are doing to...
PLAY FULL SONGS ON GUITAR IN AS LITTLE AS 30 DAYS, AFTER PICKING UP GUITAR FOR THE
VERY FIRST TIME!

And if you want, you can become one of them - even if you always feared you are too old to play guitar and your fingers are as flexible as a set of bamboo sticks.
Here is what it's all about:
My name is Dylan Andrews and I help adults in Gwinnett County who never thought they could learn guitar to,

well... learn guitar.
And learn it fast.
My notable success stories include: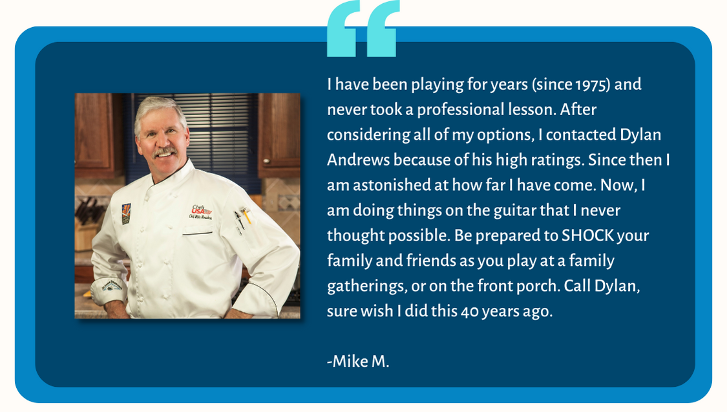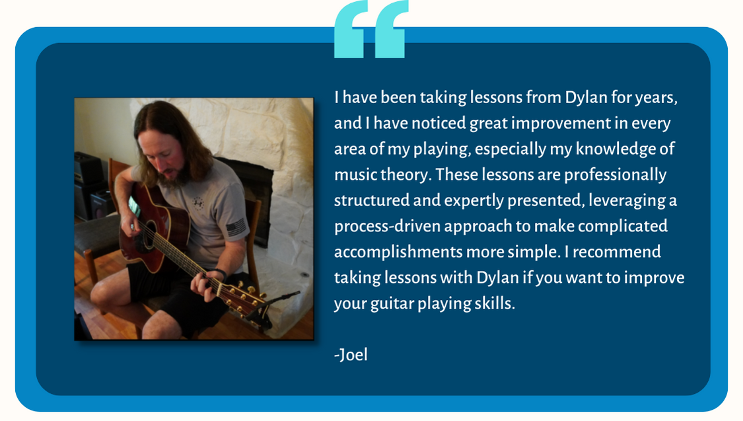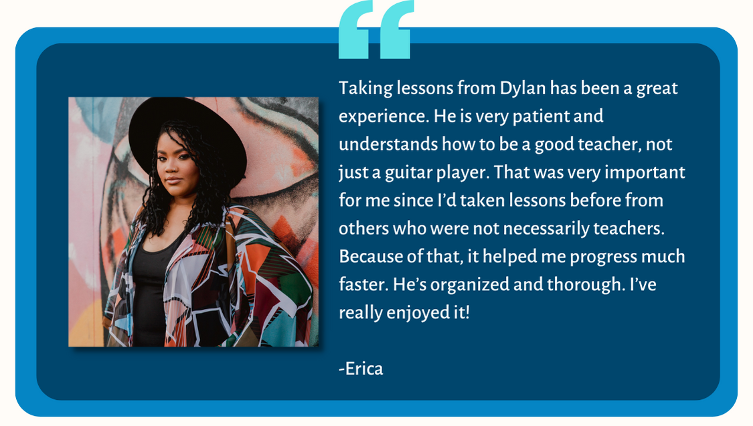 And after 10 years of doing this, I can confidently say:


IF YOU ARE A HEALTHY ADULT, WITH ALL 10 FINGERS, ARE FRIENDLY & COACHABLE AND HAVE A BURNING DESIRE, YOU'VE GOT AN EXCELLENT CHANCE OF LEARNING GUITAR WAY FASTER THAN YOU EVER THOUGHT YOU COULD

What makes me so confident in saying this?
Because, unlike many guitar teachers who promise to teach all styles and skill levels equally well (when all you want to do is just get your playing off the ground)...
...or brag about their 'decades of experience' (but haven't done anything to improve their teaching skills after their first year of teaching), I happen to be:
THE ONLY GUITAR TEACHER FOR BEGINNERS IN ALL GEORGIA TRAINED IN THE ELITE GUITAR
TEACHERS INNER CIRCLE

Here is what that means for you:
Every year I shell out thousands of dollars to upgrade my teaching skills, get ongoing guitar teacher training and learn from the top guitar teachers from over 50 countries, so I can stay...


ON THE VERY CUTTING EDGE OF TAKING COMPLETE, "NEVER- PLAYED-BEFORE" BEGINNERS AND GETTING THEM SMILING FROM EAR TO EAR AS THEY PLAY THEIR FIRST CHORDS, MELODIES AND SONGS!

It also means: studying with me is not cheap.
So, if you are looking for "Walmart version" of guitar lessons, or if investing a hundred dollars a month into your guitar playing makes you "gasp for air"...
...I'm not the teacher for you.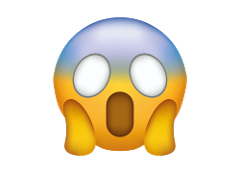 But I decided long ago to focus on helping my students get results than on being cheap. I'm looking for guitar students who want to get what they pay for and get it fast.
And guitar students come to me do so, because they want


A GUITAR TEACHER WHO TAKES HIS CRAFT AS SERIOUSLY AS BRAIN SURGEONS AND AIRPLANE PILOTS TAKE THEIRS!

If that is what you are looking for too, let me tell you something fascinating I found in my 10 years of helping beginners cross "learn guitar" off the bucket list.
There are only 2 reasons people fail to learn guitar.
Yes, only 2.

And the first one is:
Most people never even start, because they don't think they have what it takes.
For example, just last week (at the time of this writing)
I went to a dentist who, after I told her I teach guitar, sighed & said: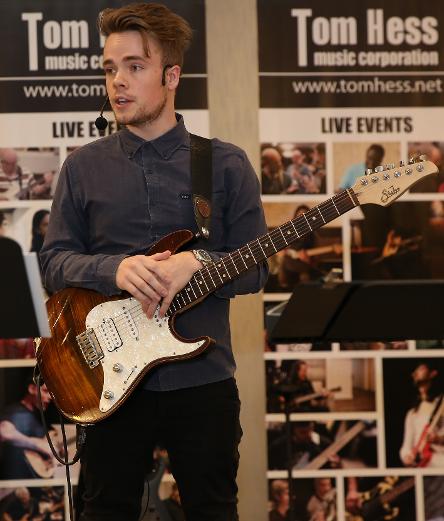 "I always wanted to learn guitar, but that ship has sailed for me."
I asked her why she thought so. And sure enough, she, like most people worried about ...
how long it's all going to take to learn guitar.

not having enough time to practice.

not having natural talent for guitar.

having fingers that are too long, too short, too fat, too thin, too... "whatever".

Plus, let's not forget: you've heard how our brains learn slower as we age, right?

Here is what I think:


PEOPLE WHO WORRY ABOUT THIS ARE ALMOST ALWAYS 100% RIGHT!

Yep. And even though we haven't met yet, I predict:

YOU MOST LIKELY HAVE ZERO NATURAL TALENT, YOUR FINGERS ARE PROBABLY NOT THE "IDEAL" LENGTH OR SIZE FOR GUITAR (WHATEVER THAT MEANS), AND YOU PROBABLY WOULD HAVE LEARNED GUITAR A HECK OF A LOT FASTER HAD YOU STARTED YEARS AGO.

There, I said it.

Of course, there is always a chance you might be that "rare-as-diamonds" phenom who will beat the odds.
I wouldn't bet on it though.

But settle down – 'cause here comes the choo choo train of good news:


NONE OF THIS MATTERS ONE IOTA!

And to prove it, I'm going to tell you a story:
Many years ago, a young boy in Australia named John Williams started playing guitar.
He only practiced 30 minutes per day... but he had a very special (an almost-unheard-of) advantage during those 30 minutes.
His father (an accomplished classical guitarist himself) was watching him practice, correcting his every mistakes and literally not letting him do a single thing wrong.
Later on, Williams became a legendary classical guitar player – playing the hardest classical repertoire with jaw-dropping ease.
Many think Williams was born with God-given natural talent.
But in William's own words?
He credits his father's training for his world-class chops. Chops he got in 30-minutes per day, no less.
And it all makes perfect sense too...
I mean: if you were born with natural talent, you'd naturally practice a certain way. A way that basically guarantees you'll become great.
But what if you don't have natural talent but instead have someone like John Williams train you the way his father did him?
Well, then:


YOU TOO WOULD PLAY LIKE NATURALLY TALENTED GUITARISTS PLAY. AND YOU'D FOOL EVERYONE INTO BELIEVING YOU HAVE NATURAL TALENT!

How crazy is that?
As a "green" beginner, you have the best chance of learning guitar.
Why?
Because you don't have a truckload of bad habits to undo, old muscle memory to fight against and decades of sloppy practice to erase, like intermediate (and even some advanced) guitarists do.
Starting with a blank slate is always best. That means as a beginner, you can often learn (and improve) faster than some intermediate and advanced guitarists!
Now, unfortunately, the rumors ARE true. Our brains (generally) learn slower as we age.

But it doesn't mean our brains stop functioning entirely and that older people can't learn at all.
The world is full of people who hit their success stride during what some might call "their golden years".
In fact...


MANY OF THE WORLD'S GREATEST SUCCESSES (INDUSTRY TYCOONS, MEDIA, CELEBRITIES AND INNOVATORS) DIDN'T "BLOOM" UNTIL THEIR MID 40S, 50S AND 60S!

For example:

Colonel Sanders started the legendary Kentucky Fried Chicken chain when he was 65.
Morgan Freeman got his first breakthrough movie role when he was 50.
Samuel L. Jackson didn't even get his first starring movie role until he was 46 years old.

Sam Walton (founder of Walmart) didn't open his first chain of stores until he was 44 years old.

I could go on and on, but here is the point:
While many people bury their dream due to nothing but F.E.A.R. (false expectations appearing real), others are going out and getting what they want.
And what this (could) mean for you is:


THE SOONER YOU START PLAYING GUITAR, THE FASTER YOU'LL BECOME A HAPPY GUITAR PLAYER AND PROVE TO YOUR FRIENDS IT'S NEVER TOO LATE TO DO WHAT YOU WANT!

Now, let's talk about your finger size/shape. Let's assume for a moment, you have stubby, sausage-link fingers.
I'm here to tell you...


WHEN YOU HAVE PROPER GUITAR TECHNIQUE, YOU CAN "FAKE" HAVING LONGER-THAN-NORMAL FINGERS AND PLAY AT A LEVEL MANY PEOPLE WITH SPAGHETTI-LIKE CLAWS ONLY DREAM ABOUT.

I even have a little video to show you what I mean:

And if you let me, I can help you build your technique so you can make your hand/finger size almost completely irrelevant too. (More on this in a moment.)
But before we talk about how I can help you, there is one more reason why most people who want to play guitar never do.
I'm talking about those who try to learn and give it their best...
...but they "die on the vine" during the first month.

And I can't blame them.

Because, you see...


YOUR FIRST 30 DAYS WITH THE GUITAR MAKE OR BREAK YOU AS A GUITAR PLAYER

I won't sugarcoat it:

Guitar is probably the hardest instrument to be a beginner on. Always has been, always will be.
Your fingers are going to hurt as you build calluses.
And heaven forbid you have played piano before you try to learn guitar. Then guitar REALLY feels like a Medieval torture device.
Because on piano, you can easily fret a note with one finger even if you never played before.
But on guitar?
It feels like you are playing tennis as you look back and forth between your left and right hands as you try to play 1 note.
Not anyone's idea of fun.
That's why, if you try to teach yourself or have a clueless guitar teacher who doesn't set up proper expectations from the beginning (and tells you everything I just told you)...


...it can wreck your self-confidence and kill any desire to keep going... and make you think there is something wrong with you!

But there was nothing wrong with you... there is just a lot wrong with this way of trying to learn guitar.
And as good as I am, I haven't found a way for any guitar player to skip this part of being a beginner.
But I have found a nearly fail-proof 3-step process to navigate my guitar students through the treacherous "beginner waters".
It goes like this:
Set the right expectations from the beginning (I just laid them out for you.)



Have a teacher hold your hand (metaphorically AND literally – social distancing permitting),

coach, train & guide you as you take your first guitar playing steps.



Practice just 30 minutes per day.
I am convinced that when you all do and have all 3 things, it's nearly impossible to not...


GET OVER THE "BEGINNER HUMP" AND TURN YOUR GUITAR PLAYING INTO SOMETHING YOU FEEL
PROUD OF!

Anyway, if you want, I can help you with your guitar playing too... spots permitting (my schedule is nearly full).
If you are up for it, here is the next step I propose:
Click the link below and tell me a little more about yourself so I can see how I can best help.