How to play 50 songs
with only 4 chords
When first learning how to play guitar most people have a goal of wanting to be able to play songs, I know I did! Being able to play your favorite songs is one of the funnest things you can do on the guitar. The great thing about it is if you know just a few chords you can play tons of songs!
The chords that we are going to focus on right now are Am C G D. If you can play these chords you can play over 50 songs! These chords are used all the time and it is a great place to start practicing.
Below you will see how to play these chords but if you don't know how to read a chord chart click here.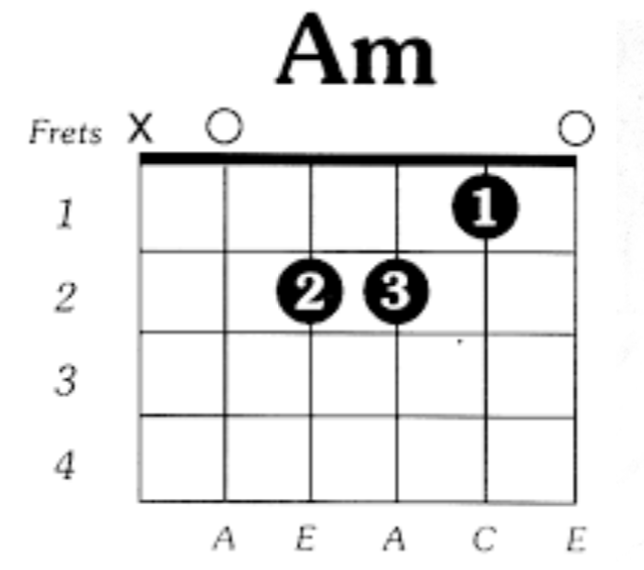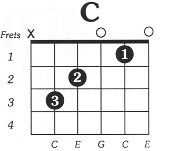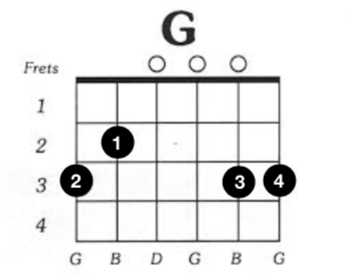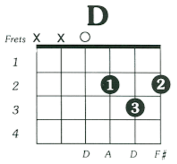 Below you will see a list of songs that use these chords that you can go ahead and start practicing to
1. What's up by the 4 Non Blondes
2. I Have A Dream by Abba
3. Push by Avril Lavigne
4. All The Small Things by Blink 182
5. Lively Up Yourself by Bob Marley
6. 3 Little Birds by Bob Marley
7. Somewhere In Brooklyn by Bruno Mars
8. Born In The USA by Bruce Springsteen
9. Rebel Rebel by David Bowie
10. Hound Dog Elvis Presley
11. Tusla Time by Eric Clapton
12. Working Class Hero by Greenday
13. Radioactive by Imagine Dragons
14. Do You Remember by Jay Sean
15. Leaving On A Jet Plane by John Denver
16. Give Peace A Chance by John Lennon
17. Working Class Hero by John Lennon
18. You Are My Sunshine by Johnny Cash
19. What Goes Around by Justin Timberlake
20. All Summer Long by Kid Rock
21. Born This Way by Lady Gaga
22. Whole Lotta Love by Led Zeppelin
23. Royals by Lorde
24. Say It Again by Marie Digby
25. Uptown Funk by Mark Ronson
26. She Will Be Loved by Maroon 5
27. Sunday Morning by Maroon 5
28. Tonight's The Night by Neil Young
29. Unknown Legend by Neil Young
30. Molly's Lips by Nirvana
31. The Cross by Prince
32. Common People by Pulp
33. Blurred Lines by Robin Thicke
34. Real Gone by Sheryl Crow
35. We Oughta Be Drinkin by Sheryl Crow
36. Chasing Cars by Snow Patrol
37. It's Been Awhile by Staind
38. Shake It Off by Taylor Swift
39. What I Got by Sublime
40. Paperback Writer by The Beatles
41. So Young by The Corrs
42. Days Go By by The Offspring
43. One World - Not Three by The Police
44. The Last Time by The Rolling Stones
45. When Love Comes To Town by U2
46. Diane Young by Vampire Weekend
47. Heroes by Wallflowers
48. Lost by Anouk
49. Of The Night by Bastille
50. Achy Breaky Heart by Billy Ray Cirus